Reviews from our Customers
Customer Reviews
Write a Review
Ask a Question
02/10/2019
Genevieve B.
United States
Wonderful! They were great quality
Wonderful! They were great quality and look just the picture. Only would be that i received no shipping updates and they took a long time to arrive. Other than that love them!
02/10/2019
Bayley M.
Australia
So cute I love them
We're literally getting 30 degree temperatures here in Australia and I'm still wearing these socks, they're super cute and comfortable I love them!!!!
01/18/2019
Limettentee
Germany
Love them
I have bought around 6 different pairs and they're all great. I like it even bettet, now that you can choose between sizes. Great!
12/18/2018
Laura C.
Italy
???? Excellent
I LOVE. these socks, they are very comfy to wear, I have really small feet, but since they are stretchy they easily fit every size ! (I got the starry night ones, and if the thought of buying them crossed your mind: do it, just do it) I love showing them to everyone, they are absolutely perfect, I can't wait for my shiba hoodie and flower lipstick to arrive (along with the other things) this is easily one of my favourite shops, can't wait to see your next products !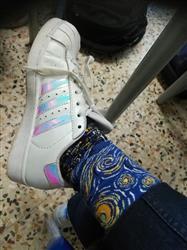 11/17/2018
Sofia B.
United States
Starry night socks 10/10
I ordered Van Gogh's starry night socks and I'm so glad I did. They are amazing quality and they shipped and we're delivered super fast. I love them so much and I would wear them everyday if I could!!!!
accessorize with these aesthetics